Meet Joe Beam, the artist of our wall mural at our new Green Bean at 715 6th Ave. Joe understood the assignment.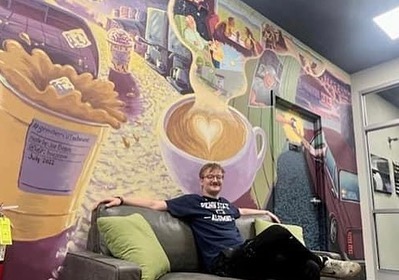 When we met with Joe, a couple of days before we opened, we explained to him what this Community meant to us and how we wanted to express that love. We chose the perfect space to share our feelings, on a main entrance wall, for everyone to see and enjoy when they entered our building. Not only did Joe understand the assignment, but he managed to create a piece of art that truly represents all of the aspects of the Green Bean, what we stand for, and the reasons our coffee shop was created.
It has been a pleasure watching this talented artist write our story of love and dedication to our Community with his paint brush. Through his unique style and his passion for his art, Joe was an unstoppable force of creativity.
We look forward to sharing this token of our appreciation with YOU, our Community!
Thank you Joe, we look forward to future projects.